If you brought chicks home this spring, and if they haven't started laying, they will soon! There's nothing much better than collecting your first eggs! Maintaining a proper diet and keeping hens comfortable will allow them to produce incredible eggs and do it well When they lack proper nutrition, they can get into trouble Today we're going to discuss what causes an egg bound hen, what to look for, and how to treat them So, let's get started!
Posted by
Annie
Posted in

Chicken Care, Egg Layers, Essential Oils, Poultry Health
Tags:

chicken health, chicken lack of calcium, egg bound hen, flock fixer, treating an egg bound hen
Leave a comment

on Egg Bound Hens…What to Do?
If you know me at all, you know that I'm always up for a good challenge! I know quite a few people who think water is water, and their chickens don't need all that fancy stuff You may know someone like that too Or maybe you're even that someone! However, I have a challenge for you I have been faithfully using
Chicken E-lixir
in our flock for 3 years now The health and vitality of our flock shows this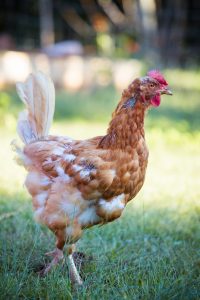 With the coming of autumn, leaves aren't the only things falling
You may have noticed some of your flock members dropping feathers Every year, the sight of suddenly nearly naked chickens causes panic for new chicken owners
Birds, almost overnight, start looking like a strong wind came and left them stripped!
Although it seems alarming, chickens could naturally lose their feathers in autumn during their MOLT
A molt is the shedding of old feathers, to make way for new ones In the same way humans shed skin cells daily and reptiles and crustaceans shed their old skins, chickens molt out of their old
Let's be real, when we are out with our chickens, the best feeling in the world is when they want to be your BFF Am I right or am I right? Ha! One of the ways we work our way into their tiny little hearts is by giving them snacks
Snacks are a great way to develop a bond between you and your chickens They are also a good reward, a great
When I started back up with raising my current flock (I took a couple years off), I was pretty set on only having 6 chickens Now, fast forward almost 3 years and my flock is up to 40! Hahaha! If you know what chicken math is, that's why!
I am part of a number of backyard chicken groups on social media and it seems there are always people selling or giving away chickens or looking to