Chickens have been a source of protein for hundreds of years.  When the Spanish explorers arrived in the Americas, they had chickens in tow.  These birds were bred to be hardy and productive.  As European settlers arrived in North America, they continued to bring their chickens with them.  They bred for health, longevity and productivity.  
In 1873, the American Poultry Association began defining breeds.  These standardized breeds became highly adapted to various climates.  Some breeds were extremely cold hardy and would continue to lay through the darkest winter.  Other breeds were developed to be a good source of both meat and eggs, creating fabulous dual purpose birds.
The chicken industry changed dramatically in the early 1900s.  A few hybrid crosses were found to be excellent producers and the industry became a commercial venture.  As families moved off of the farm and into urban areas, they quit raising chickens in favor of shopping at a local market or grocery store.  The population of the standard breeds began to rapidly decline.
The term 'heritage breed' is defined by the Livestock Conservancy.  This organization aims to keep old breeds alive.  Heritage breeds are many of the same breeds that were defined by the APA in the 1800s.  They're highly adapted and solid performers.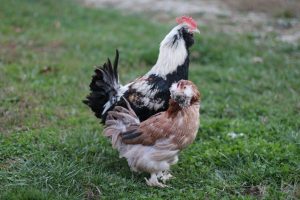 In order to be considered a heritage breed, the breed must meet certain criteria.  For chickens, the following criteria must be met:
The breed must be an American Poultry Association breed.  The bird must be have parents and grandparents that can be traced as a standard breed.  All chickens and eggs laid must come from APA standard breeds.  The chickens must meet the standards of perfection for the breed.

The animals should be able to naturally mate.  All heritage breeds must be able to mate naturally without the use of artificial methods.  All chickens must be the result of a natural mating.

A long, productive outdoor lifespan is necessary to be considered a heritage breed.  Chickens should be able to thrive outdoors, in a pasture setting for a long time.  Hens should be productive for 5-7 years and roosters should be productive for 3-5 years.

Heritage breed chickens should have a slow growth rate.  They should reach market weight in no less than 16 weeks.  
These criteria are quite the contrast to what is seen in many hybrid chickens today.  Some of the hybrid breeds are unable to breed naturally, reach market weight in as little as 6 weeks and have a short production lifespan of 1-2 years.
Heritage Breeds 
There are over 50 heritage breeds of chickens.  Heritage breeds are divided into categories, based on the estimated population numbers.  Breeds with fewer number of individuals are listed as critical, while those with healthy population numbers are listed as recovering or study.  Chickens listed as threatened or watch have improving population numbers.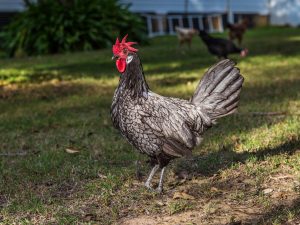 Here are a few of the heritage breeds that Hoover's offers: