I remember the first day Rosie came to our house I had been doing some research on different breeds to figure out which ones I was going to add to our backyard flock I was so excited to have a wider color variety wandering around the yard, but wanted to make sure I was getting a breed that was a good egg layer yet docile and hearty The Lavender Orpington was of my top picks
I remember when I first started out with chickens I really didn't pay much attention to breeds; I just wanted the eggs for our family As time went on, I realized that there are so many wonderful chicken breeds out there I started dreaming about adding to my flock and which breeds I wanted the most This is the reason my flock is up to 47 now! Hahaha!
When we started our most recent flock, I started with all brown egg layers I didn't give much thought to the color of the eggs, I just wanted nice, hardy chickens! As the idea of having different egg colors started to grab my attention, I decided to add a couple different breeds into our flock The second batch of chicks I got were Easter Eggers!
Today we're going to talk about one of my favorite breeds Who am I kidding! I feel like all the breeds are my favorite! Haha! Except maybe not Wyandottes I haven't had a great experience with that breed However, we're not talking about the other breeds today Today, it's all about Brahmas!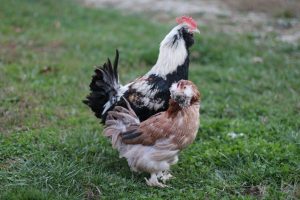 Chickens have been a source of protein for hundreds of years  When the Spanish explorers arrived in the Americas, they had chickens in tow  These birds were bred to be hardy and productive  As European settlers arrived in North America, they continued to bring their chickens with them  They bred for health, longevity and productivity  

In 1873, the American Poultry Association began defining breeds  These standardized breeds became highly adapted to various climates  Some breeds were extremely cold hardy and would continue to lay through the darkest winter  Other breeds were developed to be a good