With turkey shortages on the rise this year, why not try a recipe with chicken instead?
Northerners make stuffing, Southerners make dressing.
Although both are delicious, I may be a little biased towards the Southern classic. Chicken dressing is actually a very popular Southern dish and is served all times of the year. That being said, it is absolutely a Southern Thanksgiving staple! I hope y'all can give it a try this year!
Chickens specifically bred for meat production, such as Cornish Cross or Rudd Rangers work great for this recipe. However, you don't have to have a special breed. At my home, we occasionally cull excess roosters and use them in any recipe that calls for chicken.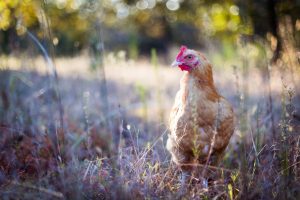 Chicken Preparation:
Cook a whole chicken in the crock pot or roast it the day before.
Reserve all shredded meat and save the stock left behind. This will really add a wonderfully rich flavor! (Store bought rotisserie chicken works fine as well!)
Cornbread Recipe:
1 cup self-rising cornmeal
½ cup self-rising flour
¾ cup buttermilk
2 eggs; beaten
2 Tb vegetable oil
Preheat in 400 F oven, and cook until done and brown on edges.
Dressing Recipe:
Cornbread (as prepared prior)
7 slices oven dried white bread
1 sleeve saltine crackers
8 tbsp butter
2 cups celery; chopped
1 large onion: chopped
7 cups chicken stock
1 tsp salt; careful not to add too much
1 tsp black pepper
1 tsp dried sage
1 tbsp poultry seasoning (optional- if you're using meat from a farm raised bird, this will not be necessary)
5 eggs; beaten
Shredded meat from one chicken (dark and white)
Directions:
Preheat oven to 350 F.
In a large bowl, combine cornbread, dried white bread slices, and saltines. Set aside.
Melt butter in large skillet over medium heat. Add celery and onion; cook until transparent, 5-10 mins. Pour vegetable mixture over cornbread mixture. Add the stock, mix well, taste, and add salt and pepper to taste, sage and poultry seasoning. Add beaten eggs and mix well. Reserve 2 heaping tablespoons for gravy.
Pour mixture into a greased pan, 9 x 13 works great. Bake until dressing is cooked through, for about 45 minutes or so.
Notes:
Mixture should be consistency of uncooked cornbread.
After about 15 minutes, stir dressing down from sides to cook uniformly.
Optional; add can of cream of chicken soup for added flavor.
Try using some of your own, farm raised meat this year or next! You'll enjoy the reward of serving a farm to table dinner that impresses your friends and family! It pairs wonderfully with cranberry sauce, sweet potato casserole, and turnip greens!