Hopefully your chickens are starting to lay delicious, farm-fresh eggs again now that the days are getting longer. If you're looking for a great way to use up those eggs, let me suggest one of our favorite breakfast recipes – the German Pancake.
This easy recipe is a staple at our house and a great use for the delicious eggs your chickens are so kind to provide you. I also love that I my kids can make it on their own!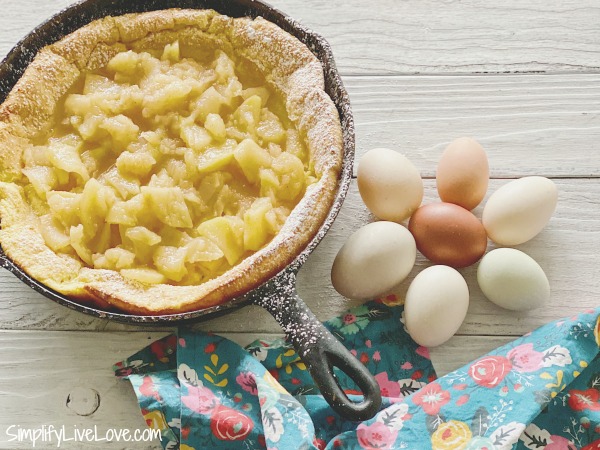 Add this recipe to your weekend line-up and skip the hours of flipping those individual pancakes.
Prep Time: 10 minutes
Cook Time: 35 minutes
Serves: 4-6
Ingredients:
3 tablespoons butter, melted in an oven safe skilled over medium-low heat
6 eggs, whisked
1 1/2 cups milk
1 1/2 teaspoon pure vanilla extract
1 3/4 cups flour
1/2 teaspoon salt
3 tablespoon sugar, if desired (I usually omit)
toppings of choice: powdered sugar, maple syrup, homemade jam, cooked apples
Directions:
Melt butter in cast iron skillet over medium-low heat. Remove from heat.
In medium bowl, whisk eggs, them combine with milk and vanilla extract.
In a large bowl, combine dry ingredients.
Carefully pour 2/3 of egg mixture into dry ingredients and whisk to combine. Add the remaining egg mixture and whisk until lumps are gone.
Pour mixture in cast iron skillet over the butter and place in a cold oven.
Turn the oven on to 375 degrees and bake 30-40 minutes, or until the pancake is very poofy and golden brown.
Remove from oven, cut into slices, and serve with toppings of choice.
Note, this pancake should turn golden brown and get very poofy. If you're having any trouble getting it to poof though, head over to my longer post with the German Pancakes Recipe and read the troubleshooting tips!