The Fourth of July is always a huge celebration in our family.  We've had many family members that are active or have been active military members.  Each year, our family holds a huge cookout over the weekend to celebrate the holiday.  There are a couple hundred people present each year.  On Friday evening, they slaughter a whole hog and put it onto a cooker so that we can have fresh pulled pork Saturday evening.  Friday evening is a fish fry.  For both meals, everyone in the family brings a dish.  Some people bring sides, others bring desserts.  Over the years, I've become slightly famous for my dish.  
My Favorite Dish to Bring
When you think of celebrating the Fourth of July, you probably think of decadent, summery, barbecue style foods like ribs, baked beans, deviled eggs and potato salad.  When I first started bringing a dish to our family cookout about 10 years ago, I was trying to come up with something that no one else brought.  When you're attending a cookout with a couple hundred people attending, that can be a difficult task.  I thought that I would try my hand at making the most American dessert I could think of- apple pie.
Each year when I make apple pie, I always bring home a clean pie plate.  It's usually the first dessert to go.  The strawberry shortcake, banana pudding, brownies and other desserts get pushed aside until the apple pie is gone.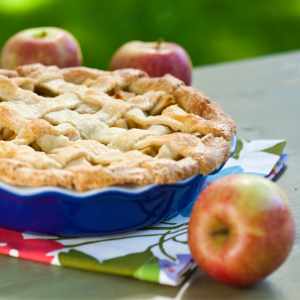 Tips for An Amazing Apple Pie
I've made dozens and dozens of apple pies over the years.  I've tried to make them many different ways and I can tell you that little things make a big difference when it comes to apple pie.  Here are some of my tips for making an amazing apple pie:
Make your own filling.
Don't be tempted to buy canned filling.  Canned filling tastes good, but freshly made filling tastes incredible.  I use a combination of green apples and red apples to make my filling.  Peel your apples and chop them into thin, bite sized slices.  I like to cook mine in a large iron skillet.  Add the juice from half of a lemon to help keep some color on your apples.  Cook them in butter and a little bit of water with white sugar, brown sugar, cinnamon and vanilla.  You should have liquid in the bottom of your pan.  You'll thicken that liquid with a cornstarch slurry.  The end result should be a gel-like consistency of apples and filling.
Make your own pie crust.
This step makes a huge difference.  Store bought pie crusts have little or no flavor.  A homemade pie crust will have more flavor and a better texture once it's cooked.  If you have a go-to recipe for a homemade pie crust, use that.  I use flour, salt, butter flavored Crisco and cold water.  You want to make enough pie crust to have a bottom crust and a top crust.
Put your bottom crust down, pour in your filling, then cover with a top crust.  I use an eggs wash on the top crust and sprinkle it with white sugar, brown sugar and a little bit of cinnamon.
Making an apple pie from scratch can be time consuming, but it's well worth it.  I promise that you won't want to make it any other way once you've had it!