Let's get ready to garden! Are you excited to grow your own vegetables this year? Growing a garden is a budget friendly way to get healthy food on the table, an opportunity to teach your kids where food comes from, and a way to reduce use of fossil fuels needed to transport far away food to us. Here are a few things to do to prep your garden for the flurry of planting!
Clean the garden –
Remove any sticks, rocks, other debris that may have fallen on your garden throughout the winter. Make sure you get rid of plants that may be left over from the previous growing season. Rake your soil smooth so it's easy to plant. If you till, you will want to do this in the spring too, once the ground is relatively dry.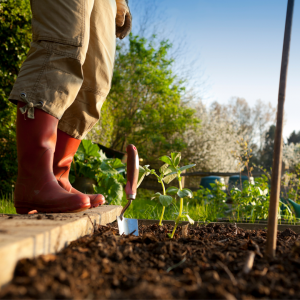 Put down weed barrier and mulch –
One thing I like to do before the weeds have a chance to start overtaking the garden is put down weed barrier or mulch. You can buy rolls of plastic, put down black tarps, or even use cardboard. If you use black tarps, you'll have to remove them before planting, but I like to use them because they have the added benefit of heating up the soil a little bit quicker.
Mulch is one of the best things you can do for your garden. It acts as a weed barrier and helps keep moisture in the soil. You can use a lot of different things for mulch: wood chips, grass clippings, straw, cardboard. Learn all about different types of mulch and how to find many of them for free in my ultimate garden mulch post!
Repair raised beds or add new ones –
If you have raised beds, make sure to inspect them for damage. Make any necessary repairs before planting so you don't have to worry about that when it's time to plant. You might also think about adding a cover to a raised bed. Covers are good for organic pest control and make it possible to plant some cold weather crops sooner!
Add organic matter –
Adding organic matter like compost, leaves, grass, or manure to your garden is very important. Not only does it make the dirt more workable, but it also adds needed nutrients to the soil. Organic matter can be added in the fall or the spring. If adding in the fall, you can let it break down over the winter. If adding in the spring, you'll want to make sure it is well composted, so it doesn't damage plants as it decomposes.
Are you excited to garden? What do you do in the spring to get your garden ready for planting?