Oyakodon
Which came first? The chicken or the egg?
This dish has both!
If you raise your own meat chickens AND have fresh eggs, this is a money-saving, exotic dish for you!
With spring comes lots and lots of eggs! It is such a beautiful time of year! Flowers are blooming, grass is a bright green, and here on the farm, our hens have started laying lots and lots of eggs! You may be searching for some fun and new ways to use them up! There's only so many ways to cook scrambled eggs and quiche, so today, I'm taking you across the sea- to Japan!
My husband and I live in Alabama now, but years ago, we lived in Japan. We lived there for two years for his job with Honda. It was such a great life experience, and we really developed a fondness for Japanese cuisine. Japanese food is some of the best in the world, and boy do they love their eggs!
Oyakodon is an easy, comfort dish of cooked chicken, eggs, and savory soy sauce. Spice it up with whatever veggies you like, and serve it on a bed of warm, cooked rice. This dish is even approved by my picky 5 year old!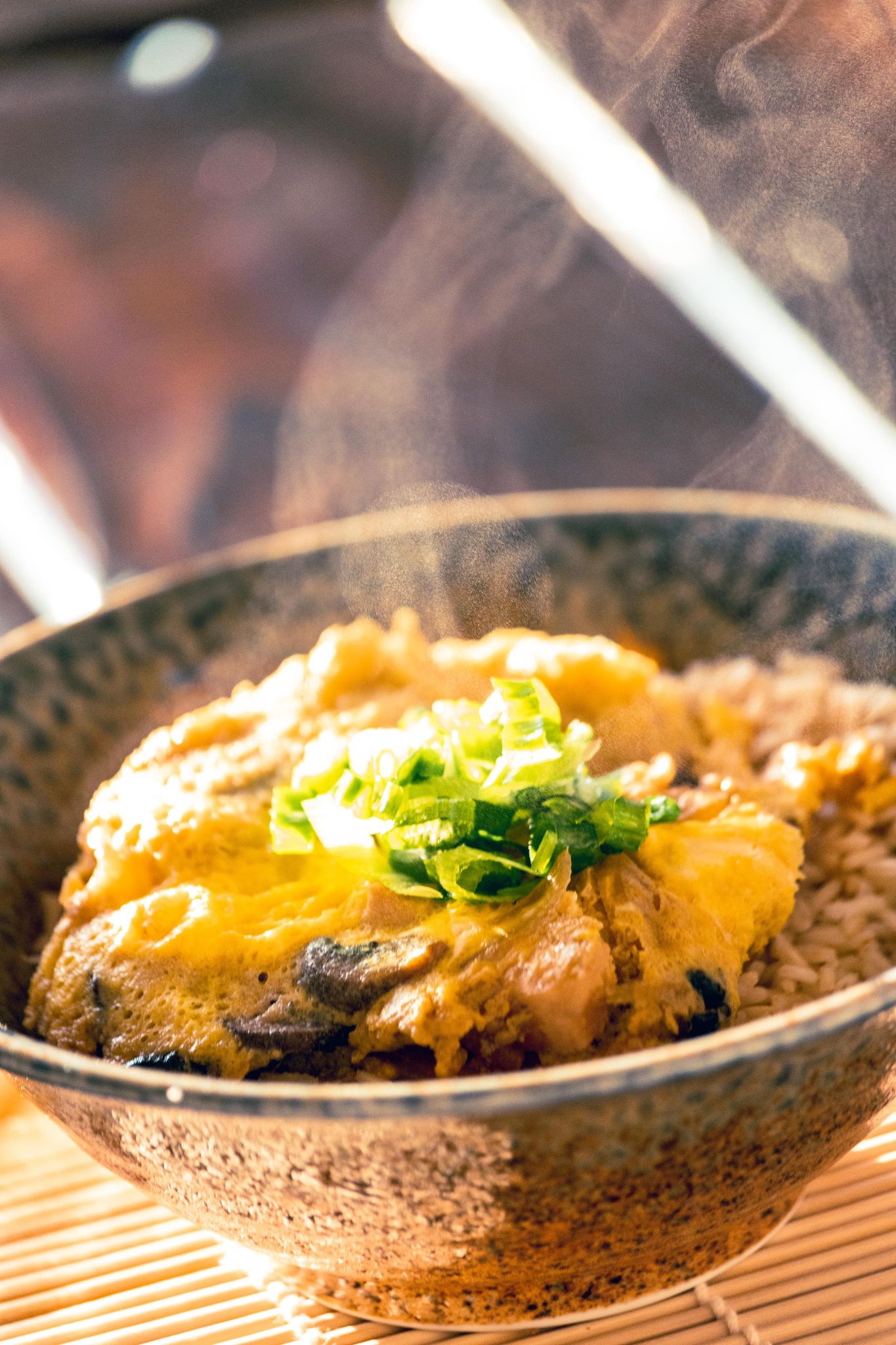 Here's how to make it!
Oyakodon Ingredients
2 cups cubed chicken breast
1 cup sliced mushrooms
2 cups water (or chicken broth if available)
3 tablespoons chopped ginger
3 tablespoons chopped garlic
1/3 cup soy sauce
1/4 cup rice vinegar
1/4 cup brown sugar
-a dash of dashi stock adds wonderful richness!- This comes in powder form and is sold at most grocery stores. It is optional, but I highly recommended it!-
3 tablespoons sesame oil
1/2 yellow onion; sliced thinly
1/2 cup diced green onion
2 eggs (per person)
2 cups of cooked rice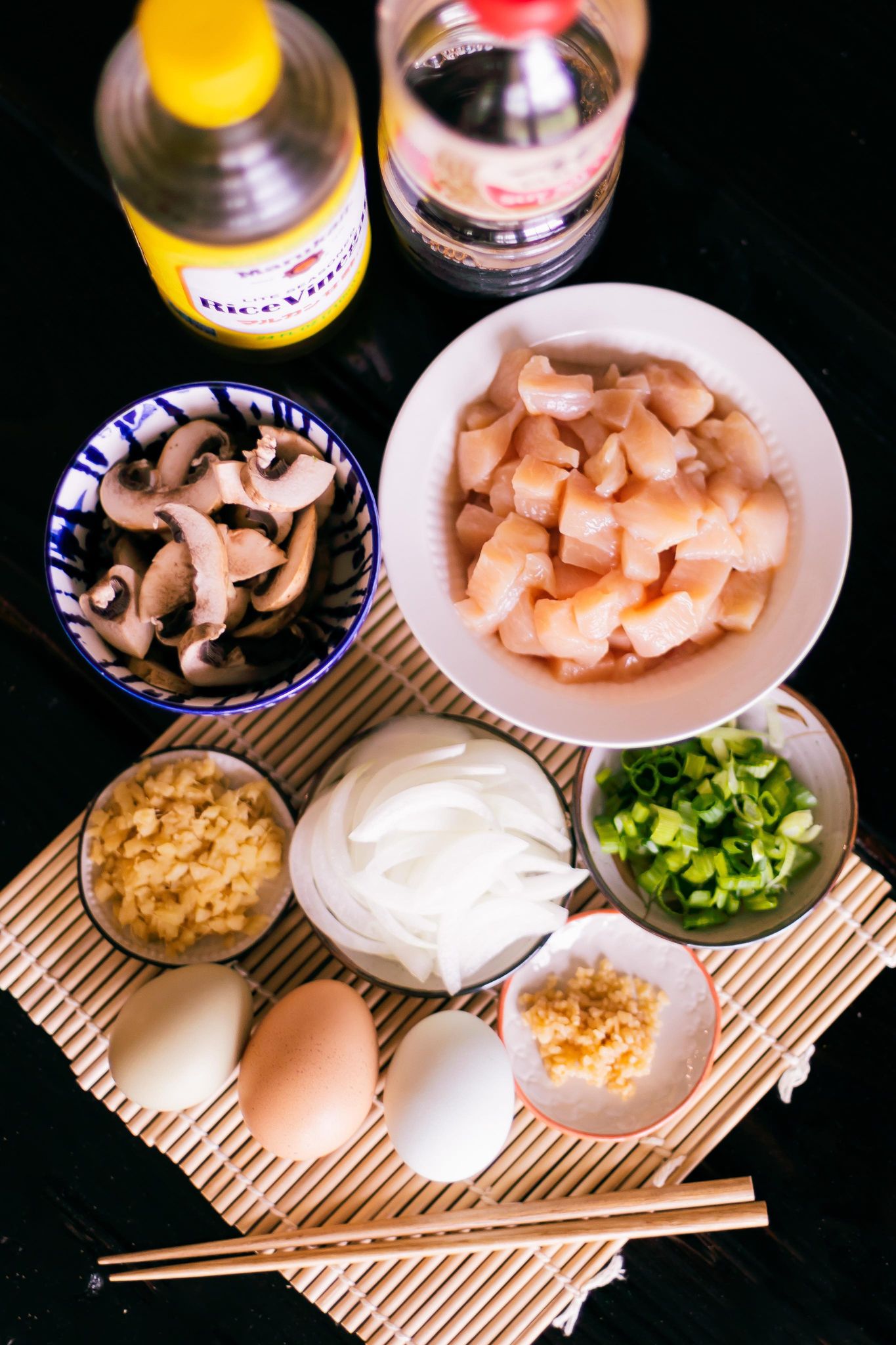 Chop all your ingredients and start your rice cooker. You'll want the rice to be ready to serve when the chicken/egg mixture is finished. Combine soy sauce, broth, vinegar, sugar, garlic, and ginger in a medium bowl. Soak the diced chicken and mushrooms in the sauce for about 30 minutes.
In a non-stick skillet, add a generous helping of sesame oil. Sauté the thinly sliced onions until transparent. On medium heat, add the soy sauce/chicken. Boil 7-8 minutes, while stirring frequently. (It will seem very liquidity, that's normal!)
Lightly scramble your eggs in a separate bowl. I like to use 2 eggs per person.
Once the chicken in the skillet has boiled and cooked, add the egg mixture right on top! Do not stir! Cover with a lid, and let simmer on medium heat for about 5 minutes, or until eggs are cooked through.
Slide a healthy portion over a bowl of warm, cooked rice. Garnish with chopped green onion or parsley.
There! You can now add oyakodon to your arsenal of egg rich recipes!
I hope you'll give it a try this spring!