I chose to create a fun treat for my flock that was festive and nutritious. This treat makes for a great boredom buster. It is high in protein which is perfect for winter and molting season.
Yield: 24 Treats
Prep time: 10 mins
Total time: 40 mins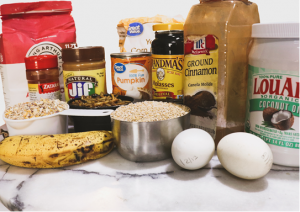 Ingredients:
1 cup – whole wheat flour
1/2 cup – corn meal
3 eggs
1 cup – Canned pumpkin
1 Banana
1/4 cup – Molasses
1/4 cup – Natural peanut butter
1/4 cup – Coconut oil or lard (Melted)
1 Tbs –  Cinnamon
1/2 Tbs – Cayenne
1 cup – Scratch
1 cup – Feed (I used 20% Protein Grower Crumble)
1 cup – CoohGrubs (Black Soldier Fly Larvae)
Optional –
I added a handful of dried cranberries to it.
I used Christmas Silicone molds  from Amazon to form my treat shapes.
Twine or String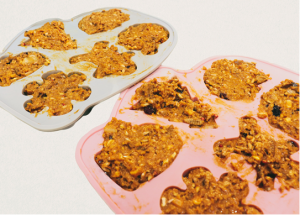 Directions:
Step One – Preheat oven to 350.
Step Two– Beat Eggs, Cornmeal, Flour and Banana well.
Step Three – Mix in Molasses, Pumpkin, PB, Cayenne, Cinnamon and Oil.
Step Four – Fold in Scratch, Feed and Grubs.
Step Five –  Place in desired mold. I recommend spraying your pan with coconut oil. If you do not have festive molds, it's perfectly okay! Muffin or small bread pans work great too!!  If you plan on hanging these treats, this is the time to make your holes. I used a wooden utensil.
Step Six – Place in oven for 30 mins.
Step Seven – Let Cool for an hour & then thread your string in the hole you created.
Step Eight – Let your chickens dig in!!