Weeds in the garden are the bane of my existence. As I write this, I'm thinking about all of the weeds I need to go eliminate and it's a little over whelming. Preventing weeds from growing in the first place is a great goal, and there are a few things you can do to prevent weeds from growing in the first place. Here are my top three weed prevention methods!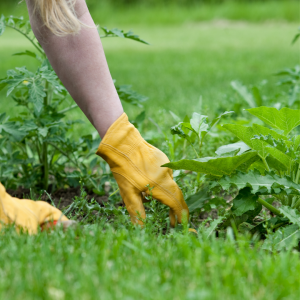 I highly recommend transitioning to a no-till garden. Tilling actually encourages weeds grow by moving them around in the soil. And over time, tilling destroys your garden by disrupting the soil structure. Instead of tilling, transition to the lasagna garden method! With a little extra work in the spring and fall, you'll find that you'll spend much less time fighting weeds during the summer growing season!
Mulch is your best friend!
Using mulch is really one of the best ways to prevent weeds. I save cardboard and paper feed bags all year to use in my garden. In the spring or fall, I put down cardboard or the bags as a weed barrier and put a thick layer of wood chips on top. This is a great method to use on all your walkways and between your raised beds. If you have a fence, make sure the cardboard goes under the fence to prevent weeds in your fence row too.
The nice thing about using this method is that the cardboard and the wood chips will break down in your soil over time. In the fall, mix in some compost or manure and you've just enriched your soil! Since I didn't do this garden chore in the fall, this my big job that I need to complete now!
Pro tip –  If you're using cardboard, make sure to take the tape off before putting it down in your garden.
Heavily mulch your plants
After you plant your seedlings, make sure to heavily mulch them as well. The best material to use as mulch around your plants is straw, grass clippings, or shredded leaves. Make sure that the straw is free of weed seeds and the grass is free from herbicides. For example, don't use grass clipping after spraying for dandelions.
This mulch also breaks down to enrich your soil over time. It also helps keep moisture to protect your plants during hot weather. Mulch really is one of the miracle materials for your garden!
I have found several sources of free mulch. If you're curious, you can read about them on my blog!
Plant a cover crop
Another great way to eliminate weeds is to plant a cover crop in the fall. Cover crops are enrich your soil and they keep out weeds! They're a win-win. Clover, rye, winter peas all make great cover crops. Plant in the fall, then mow a few times in the spring and plant right over the dying plants! No need to spray to kill or till to remove.
These are my three best tips for preventing weeds! What are yours?