Dying eggs naturally is such a treat – it's not hard and it's a really fun thing to try with your kids. With a bit of time and pre-planning, using saved food scraps and other items, you might not even have to buy anything extra to create the most beautiful naturally dyed eggs!
Surely, you've seen the lovely color combos you can create with your own eggs using items from your kitchen or things you have foraged yourself. If you'd like to dye Easter Eggs naturally, this year, here are a few tips and color combos to try!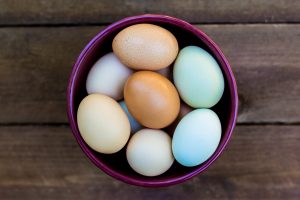 Here's how to get a rainbow of colors using natural dyes
Red: Fresh or canned beets + 1 tablespoon vinegar (I think fresh beets work best)
Yellow: Turmeric – 3 tablespoons turmeric + 2 cups water + 1 tablespoon vinegar
Green: Dye a white egg blue, then dye it yellow OR dye a brown egg blue
Blue: Red cabbage + 1 tablespoon vinegar
Purple: 2 cups grape juice + 1 tablespoon vinegar
Brown / Black: Coffee beans, Black walnuts
How to dye eggs naturally
If you're using your own farm fresh eggs, you will need to soak them in hot water and vinegar overnight to remove the protective bloom from the egg. This protective layer is what allows your eggs to sit on the counter without refrigeration, but it needs to be removed to allow the colors to permeate the eggshells better. If you're using eggs from the store, you can skip this step.
You can use brown eggs or white eggs but note that the eggs will turn out differently based on which color eggs you use as a base. Most of the color combos noted above start with a white egg, unless otherwise noted.
If using fresh vegetables as dye medium (beets, onions skins, or cabbage) – bring one cup of dye material to boil with two cups of water and vinegar. Cool the water, then strain out the material. Pour the water in a wide mouth jar.
Place eggs in the dyed water and soak them for only a few minutes or as long as overnight. Experiment to get different shades! Natural dyes can take much longer to soak up on the eggshells than those little dye tablets you can buy at the store.
What kind of eggs should you use?
You can use blown eggs or hard-boiled eggs – whichever you prefer. If you use blown eggs though, you can save them for years!  You can use chicken eggs or duck eggs – goose eggs are lovely to dye if you have them! And guinea eggs would be fun to dye too!
If you're dying blown eggs, you will need to something to weigh them down in the dye or they will float.
There are so many ways to dye eggs naturally! You're only limited by time and your imagination. I recommend that you start saving food scraps and try as many combinations as you can. Make sure to share your eggs on social media and tag Hoover's Hatchery so we can see your naturally dyed egg creations!