As the days get shorter and the weather eventually cools off, baking will once again be on my mind! I've taken a bit of a break during the hot summer months, but I am looking forward to reviving my sourdough starter and getting creative in the kitchen again. If you're interested in sourdough, here are a few tips and tricks to help you have success!
First, if you're a real sourdough beginner, I recommend starting with a ready to go starter instead of trying to make your own. You can make your own, but it's pretty easy to get a starter from a friend. Most people with sourdough starters are happy to pass some on to friends! If you can't find a start to share, you can also buy starter kits on amazon and at other retailers.
Once you have a starter, a few basic supplies will help you have good success.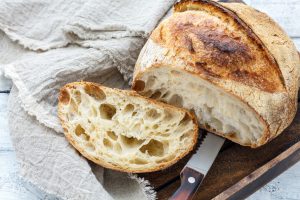 Helpful, Basic Sourdough Supplies
A digital kitchen scale for accurate feeding
Cheesecloth for covering the jar
2 jars – one for the active starter and one for the discard
A wooden spoon or a silicone spatula
Rubber band for marking the starter on the jar
You can go crazy buying supplies for sourdough, but these items are the basics every aspiring sourdough baker needs.
Now that you have the starter and supplies, you have to feed it properly for effective baking.
How to Feed Sourdough Starter
Starter needs to be fed regularly. Active starter that you want to bake with needs to be fed every 12 hours until the starter has doubled. To feed active starter, begin by dumping half your starter in the discard jar. Next, weigh out the starter you have left, and then feed the same weight in water and high-quality all-purpose flour.
For instance, if you have 50 grams of starter, also feed 50 grams of water and 50 grams of flour. It's important to take out half your starter each time before feeding, or you will end up with gallons of discard in your fridge. You can ask me how I learned this. LOL!
Mark the level of the starter in jar by putting a rubber band around the jar at the level of the starter. Keep this jar on the counter. Once the starter is nice and bubbly and the volume has doubled in the 12 hours between feedings, you're ready to bake delicious sourdough bread! You should be able to tell if the volume has doubled if it rises well above the rubber band.
For trouble shooting and more sourdough starter tips, read my post, Sourdough Starter.
Discard starter
Discard starter (keep this jar refrigerated) is supposed to be fed once a week. Honestly, I'm not always good at feeding my discard, and with a few extra feedings it is possible to revive a hungry starter. What is important is that you also use up your discard! There are so many delicious ways to use discard, so don't let it go to waste.
A few of our favorite ways to use sourdough discard include:
Sourdough Blueberry Crumb Cake
For Thanksgiving, Sourdough Stuffing with Roasted Red Onion, Sausage, and Kale
We also love to make pancakes, waffles, sourdough discard pizza crust and sourdough biscuits as well! And of course, sourdough bread is a staple at our house. My favorite sourdough bread recipe with sample baking timelines is right here!
If you have specific sourdough questions, please let me know! I'm always happy to help people have the best success with their sourdough baking!