I love soup. Frankly, I can eat soup all year long, though it does seem like we eat it more in the winter than in the summer. I'm sharing my favorite soup recipe with you today –  in honor of National Soup Day on February 4th.
It's difficult to choose a favorite soup since I love so many: Taco Soup, Zuppa Toscana, Hearty Chili, Lasagna Soup, Hamburger Soup, French Onion, Simple Chicken Noodle. All these are delicious, filling, and easy to make from scratch. If I must choose my one most favorite soup, though, I think it might be Creamy Chicken Tortellini Soup.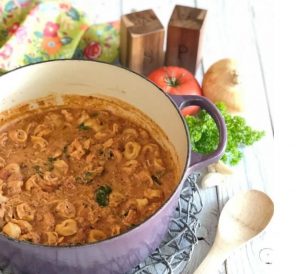 Made with fresh garlic and spinach, leftover chicken, canned tomatoes, and homemade chicken broth, this creamy soup really hits the spot on cold winter days! It's one of the recipes in my book, How to Raise Chickens for Meat + 30 Farm to Table Recipes, and it's also on my blog.
Ingredients for Creamy Chicken Tortellini Soup
Prep Time: 10 minutes
Cook Time: 20 minutes (depending on tortellini)
Servings: 6
2 teaspoons avocado oil
1 medium yellow onion, finely chopped
3 cloves garlic, minced
4 cups homemade stockor broth
1 (14.5 ounce can) petite diced tomatoes
1 (14.5 ounce can) tomato sauce (Note, you can also sub one quart of home canned crushed tomatoes in place of the 2 cans.)
1 tablespoon dried basil
2 cups dried cheese tortellini, or frozen if you prefer
3 cups cooked, chopped chicken. (About 1 pound cooked and chopped boneless, skinless chicken breasts if you prefer.)
3 cups packed chopped spinach
½ cup freshly grated Parmesan cheese
1 cup half and half, or heavy cream if you prefer a richer soup
Salt and freshly ground black pepper to taste
Cooking Directions
Heat oil in a large pot over medium high heat. Then add the chopped onions and cook for 2-3 minutes until fragrant. Stir in the garlic and cook for 2-3 more minutes, or until the onions are translucent.
Add the chicken broth, tomatoes, tomato sauce, and basil and bring mixture to a boil.
Add the dried tortellini and cook per instructions on the package. When the tortellini have 3 minutes left to cook, add the chicken and spinach.
Once the tortellini are cooked, turn the temperature to low and add the Parmesan cheese and half and half.
Add salt and pepper to taste and enjoy.
More Soup Recipes for National Soup Day
Old Fashioned Chicken Noodle Soup
What's your favorite soup?